The Hurom Slow Juicer will juice vegetables, fruits & wheatgrass, make soya beans milk and even almond nuts slowly and perfectly. More efficiently than other types of single auger style juicers!
You can reap all of the benefits of this Single Auger Masticating Juicer in less space than most juicers currently found on the market!
Looking for a powerful juicer?  Hurom slow juicer is one of the latest best juicer machine you may want to find out more.  A revolutionary new design in Juice extractors that will turn other juicers on the market upright!
Simply the Best slow juicer so far for some of my customers!  The Hurom Slow juicer takes the single auger design made popular first by Samson, Solo Star and Omega Juicers, and takes the concept one step further.. The hurom slow juicer will juice all sorts of fruit, vegetables and if you are looking for a good wheatgrass juicer, it does slowly and efficiently more efficiently than other single auger style juicers!
Reap all of the benefits of a Single Auger Masticating Juicer in less space than most juicers on the market!
To be frank the ONLY ONE disadvantage I find of the Hurom Slow Juicer is that it has a smaller feed chute (not a great issue) so you just have to cut the fruits and vegetables into smaller pieces.
Not Your Ordinary Juicer 
Hurom slow juicer is a next generation juicer that preserves more vitamins and antioxidants using Hurom's patented Low Speed Type Screw(LSTS) technology. Slow juicer will allow you and your family to enjoy fresher, more flavorful and more nutritional juice EVERYDAY.
Why Hurom Slow Juicer?
* Improved High Density Ultem Strainer!! The Strainer is 8 times harder than the old version. The ultem strainer replaces both the fine and coarse hole strainers that were included with the older models. Only 1 strainer is needed and included with these new models.
Dual Stage Juicing – juice is extracted through the first crushing stage and before the pulp is ejected, it is then squeezed during the second pressing stage; resulting in more juice, and extremely dry pulp.
Higher yields – in-house testing found the Hurom Juicer yielded 50% more juice than a centrifuge juicer in 50% of the time.
Economical – Get the greatest amount of juice from the least amount of fruits. Peels and skins can be also used in various pastries, jams, soups, etc.
Better Juice, Healthier Juice – Enjoy more antioxidants, better flavor and superior freshness of your juice. The colour and taste is different too.
Self Cleaning – Simply pour water through to self clean the juicer when changing to another fruit, vegetable or leafy green. Save time!
Small Footprint – All of the performance of a masticating single auger juicer, but with less space requirements than most centrifuge-style juicers
Vegetable Juice – The Hurom juicer excels at making juice out of your favourite fruits, leafy greens and wheatgrass.
Silence – The Hurom juicer minimizes the noise by squeezing slowly rather than grinding at high speed like centrifugal juicers. The 8x harder auger is manufactured out of GE Ultem material.
Hurom Juice Squeezer – The Perfect Juicer for Every Home
DON'T MISS THIS, Click for VIDEO DEMONSTRATION
Click on the Banner Above for Chinese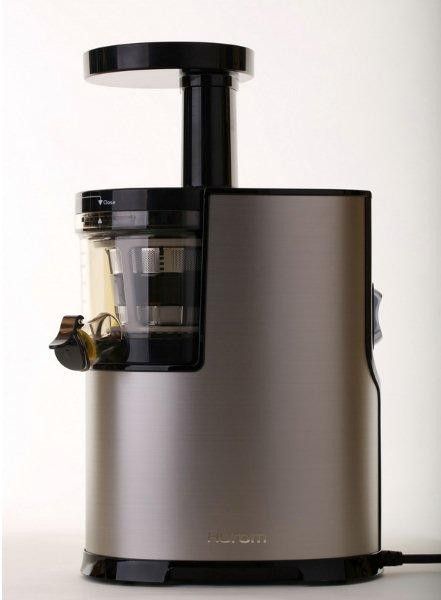 Hurom Hu-700 >>>>Click here for more info>>>>
** Hurom Manufacturer's Warranty** from the date of purchase:-
Motor : 10 years warranty
Parts : 12 months warranty

–  Hurom Model HU700
Call Jenny h/p 8182 3325 for home delivery.
Self Collect Available By Appt Only.
Call for Free Home Delivery – Contact Jenny (+65) 8182 3325 or just send an email to: jennylinse@gmail.com
Order Your Hurom Slow Juicer
via www.HuromSlowJuicerSingapore.com
via www.HealthyLifestyleSingapore.com
*********
 READ A HAPPY CUSTOMER'S TESTIMONIAL/FEEDBACK
(NaturalNews) I've been using my Hurom Slow Juicer every day for quite some time now, and because so many NaturalNews readers have expressed interest in this new "slow juicing" technology, it's a good time to review my experience with juicer in more detail.
First off, let me repeat that this juicer is absolutely amazing. I've been juicing garden vegetables and making almond milk almost daily with it. It juices carrots just as easily as wheat grass or sprouts (yes, it juices sprouts!). It handles parsley, cucumbers, kale, beets, fruits and much more. The diversity of what it can handle is truly amazing. It even juices berries very efficiently, just spitting out the seeds while extracting the fresh juice.
Lately, I've been harvesting fresh guavas off the trees here in Ecuador, then tossing them into the Hurom Slow Juicer to make fresh guava juice! It's amazing, too, because it's so incredibly easy.
Guavas are usually a very difficult fruit to work with. Using a Vita-Mix and a nut milk bag, you have to blend it, then pour it into the nut milk bag, and then spend way too much time (it seems) squeezing the nut milk bag to get some of the juice out. But because guava juice is inherently thick and foamy, it's extremely difficult to get much juice with this process.
With the Hurom Slow Juicer, however, it's ridiculously easy: Just pop the guava fruit into the juicer, add a little water with each fruit, and you get a raw guava smoothie ready to drink! One step. Couldn't be easier.
Almond milk lasts longer, too
I have a lot of experience making almond milk with a Vita-Mix and a nut milk bag. I've done it that way for years, and one thing I've noticed about this process is that the almond milk goes bad within 48 hours.
I always thought this was just a normal part of making raw, living foods with no preservatives, but when I started making almond milk with the Hurom Slow Juicer, I noticed something quite remarkable: The almond milk lasted longer!
Yep, the same almond milk that used to last only 1-2 days was now lasting twice as long (or more) in the refrigerator. But why?
I believe the answer to this question is that the juicing process used with the Hurom Slow Juicer is essentially a "cleaner" process that introduces far less airborne bacteria into the final product. The Vita-Mix method, while it works fine, also results in more air being blended into the liquid. Plus, squeezing the nut milk bag can introduce a lot of additional bacteria that may be on your hands.
The Hurom Slow Juicer method, on the other hand, doesn't "blend" the almonds to make almond milk. It just squeezes them really, really well, releasing the juice. This juice goes right into the receiving container and you never touch it with your hands. So it stays cleaner. And that means it lasts longer in the refrigerator without going bad.
Also, if you think about it, blending foods in a blender may prematurely oxidize them by mixing them with air. (When you blend, you're stirring air into the liquid at very high speed.) By using the slow juicing method, in contrast, you are preserving the natural antioxidants in the food, and isn't that part of the reason to be drinking fresh juice in the first place?
I have stopped using my Breville juicer
The most remarkable part about this Hurom Slow Juicer is that it has totally replaced the Breville juicer in my kitchen. Breville makes a fine juicer. It's an amazing machine and I still recommend it as the very best centrifugal juicing machine on the market. But I've found that the Hurom Slow Juicer has become my preferred juicing machine. It makes more juice, it's quieter, it's easier to use and it can juice a much wider assortment of fruits and vegetables.
Plus, it can make almond milk and soy milk. And that makes the Hurom Slow Juicer my current #1 top choice for an affordable, efficient countertop juicing machine for any home.
You'll seriously love this machine. We've already received heaps of positive feedback from NaturalNews readers who bought this machine after our first announcement. Enjoy your Hurom Slow Juicer! (And enjoy your guava juice if you can get your hands on some guavas!)
About the author: Mike Adams is a natural health author and technology pioneer with a passion for sharing empowering information to help improve personal and planetary health He has authored more than 1,500 articles and dozens of reports, guides and interviews on natural health topics, impacting the lives of millions of readers around the world who are experiencing phenomenal health benefits from reading his articles. Adams is an independent journalist with strong ethics who does not get paid to write articles about any product or company. He's also the CEO of a highly successful email newsletter software company that develops software used to send permission email campaigns to subscribers. Adams also serves as the executive director of the Consumer Wellness Center, a non-profit consumer protection group, and regularly pursues cycling, nature photography, Capoeira and Pilates. He's also author of numerous health books published by Truth Publishing and is the creator of several consumer-oriented grassroots campaigns, including the Spam. Don't Buy It! campaign, and the free downloadable Honest Food Guide. Adams believes in free speech, free access to nutritional supplements and the ending of corporate control over medicines, genes and seeds. Known as the 'Health Ranger,' Adams' personal health statistics and mission statements are located at www.HealthRanger.org
Article adapted from: http://www.naturalnews.com/028232_Hurom_juicer_slow_juicing.html
More juice, it's quiet, easier to maintain and it can juice a much wider assortment of fruits and vegetables.
 Hurom Juicer (youtube Video)
http://www.youtube.com/watch?v=zPv-rLHTioQ
http://www.youtube.com/watch?v=r8GsfiwOehA
http://www.youtube.com/watch?v=nofRZAhEMWU