Slow Juicer guarantees you get the most out of the vegetables/fruits you are juicing. This juice squeezer comes with a 10 Years MANUFACTURER'S WARRANTY on the motor.
Few years ago when my girlfriend first introduced the slow juicer to me, I was like so smitten by the juicer!  Could anyone be smitten by a slow juicer machine? I tell you I was.
I started introducing it on my site and people who ordered just love it so much! Most of my customers have heard about slow juicer through word of mouth or they are referred by their friends. I have many customers from Malaysia, Brunei, Philippines and from India.
Dong-Ah of Korea – the manufacturer of the #No.1 Top-Seller Omega Slow Juicer in the US and Hurom Juicer is in business with juicers for more than 35 years. Many well known juicers came from this manufacturer under different brands.
They produced the first juicer using the Low Speed Technology System (LSTS). The LSTS method allows the Slow and rather silent juicer to extract the maximum amount of nutrients, vitamins, taste and juice from a minimum amount of fruits, vegetables, leafy greens, even soybeans!
The juices taste so delicious! This product is really different from other regular juicers I used before. This machine extracts every drop juice anything you put into it. The pulp comes out is really dry.  Simply AMAZING!
The juice TASTES better!
It has to do with the less oxidation -the juice extracted is super delicious! So there you are the juice extracted is the most nutritionally potent juice you can make at home. Try it yourself:  the taste of the juices you buy from the food courts here and compare the juice you extract from these two (2) Slow Juicers.
LESS oxidation of your juice means MORE nutrition
The color and taste are different, you need to see to believe it.
When you taste your fruit juice, you'll love how sweet and concentrated the juice is.  I recommend that you drink the juice immediately but slowly. It tastes so delicious that you won't want to drink juice extracted from a centrifugal juicer ever again.
You'll observe from the demo videos that the colors are so rich, the enzymes and nutrients still very well-preserved, enriching the taste and flavor.  When you are switching from fruits to vegetables all you have to do is run water through it and it will self-clean. It is so easy. You will definitely love this machine as I did.
Having a Slow Juicer is your first important step to a life-long healthy lifestyle for you and your family members.
Having good health is PRICELESS! Don't hesitate to invest in this newest technology juicer. Don't wait till when you urgently needed one and that may be too late as prevention is better than cure.
Three years ago, I took a few weeks to decide to get one for myself but when I did, I realized it was far better than the regular juicer machines I have used before. Now I own both the Hurom & the Omega juicer. These two (2) juicers both are my favorite juicers so far.
The juicer helps to preserve the vitamins and antioxidants that are present in the fruits and vegetables that you are extracting the juice from. Besides this, this juicer actually gets out a whole lot more juice than most juicers out there. This is made possible because it operates a dual stage juicing system.
From the 1st generation models there are several designs also some with a beautiful carrying handle and in a very portable size, length 25cm, width 17.3cm and weighs about 7.5 kg, such that will not take up your counter space. Wheatgrass is fast becoming popular and it is one reason why you'll love and need this juicer.
The juice squeezer can handle wheatgrass with the same effectiveness with which it handles fruits and other vegetables. This juicer gradually squeezes at the fruits and vegetables that you put in it, preserving the nutritional quality of the fruit juice. You get the juice that is highly nutritional that you'll be happy to invest your money with no regret.
Slow Juicers (100% Made in Korea)

Call Jenny Tel:(+65) 8182 3325 or just send an email to: jennylinse@gmail.com
Omega NC800HDS Juicer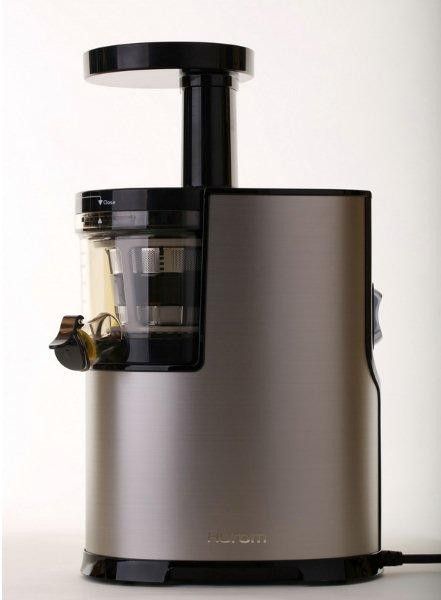 Hurom Hu700 Model

–  10 Yrs Manufacturer's Warranty (10 yrs on motor & 1 yr on parts)
– Great value
– Visit http://JuicingSingapore.com for more information.
** Improved HD Ultem Strainer** The Ultem Strainer is 8 times harder than the older version. The ultem strainer replaces both the fine and coarse hole strainers that were included with the older models.
For home delivery call Jenny Tel:(+65) 8182 3325 or just send an email to: jennylinse@gmail.com